I don't know where to begin. 2014 was a whirlwind of emotions with a lot of experiences I can't even verbalize. From emotional highs and complete lows to business successes and incredible travel adventures, the year had everything! I learned a great deal with our company Accelerate Stuttgart – mostly taking more responsibility, having more patience (with myself and others) and let go of too frustrating side-projects. I know that I'm only at the beginning and that I have to learn a lot more!
In 2014, I also traveled the world with a lot of 'firsts'. Startup events brought me to wonderful Kuala Lumpur (my first time in Asia!), crazy Las Vegas for my first UP Summit, to Amsterdam for an incredible and improvised UP un-Summit and a few other great cities. I also did a fabulous and long overdue summer trip through the Balkan countries, with unforgettable stays in Belgrade and Sarajevo (where I went back to for a Startup Weekend a few weeks later – life's serendipity is amazing!).
Thanks to all my old and new friends and to everyone who I met this past year – you're all making this life such a great experience! I'm sad that I can't celebrate this New Year's Eve together with all of you but I'm overly happy that I have so many friends in every corner of the globe. Thank you!
2015, I'm ready! There are lots of cool challenges and events coming up and hopefully lots of travel adventures. My first flight is already booked, too. I'can't wait to be back in Malaysia in April! 🙂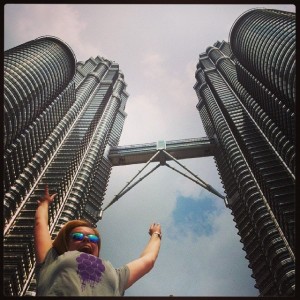 2015, let's do this!