During the last weeks, I've been quietly working on a little side project to brighten our seemingly dark times. I plan to publish one conversation per month, more if I find the time. It's not perfect but there's a lot of heart in it. Please let me know what you think 🙂
Sidewalk Conversations: Celebrating everyday heroes, their stories, challenges and learnings
Sidewalk conversations: the conversations that happen on warm summer evenings on the side of the road, in small cafés or in front of your neighbour's door while chatting after a busy day. The Sidewalk Conversations podcast celebrates those informal moments and gives a platform to everyday heroes, their stories, challenges and learnings.
Sidewalk Conversations was created by me, Kathleen Fritzsche, because those are the stories I am interested in and would like to listen to. I record my conversations with people that I think have stories worth telling and putting out into the world.
Episode 01: Jesús Navarrete in Tokyo, Japan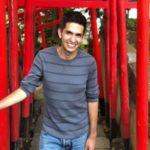 In this first episode, I meet my Mexican friend Jesús Navarrete in Tokyo. We talk about his time in Silicon Valley where we met a couple of years ago, how he ended up living and working in Japan, his everyday challenges there and what makes this country so special.
Listen to the episode on Soundcloud:
_____
Picture copyright: Kathleen Fritzsche (Tokyo) and Jesús Navarrete