The Sidewalk Conversations episodes are the stories of inspiring everyday heroes. Stories I'd like to see published because they're worth telling. I hope you enjoy them, too.
Episode 5: Neil Cocker in Berlin, Germany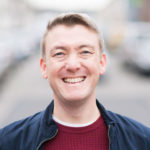 In this episode, I talk to my friend Neil Cocker. From running a record label in Cardiff, Wales, to setting up an ecommerce startup while living in Sofia, Bulgaria, Neil has had a rollercoaster life with lots of interesting stations so far and many great stories to tell. He also gives some great insights into why the US might be so successful as a startup nation and why co-living communities in big cities are our future. Enjoy listening!
Follow Neil on Twitter and Instagram.
Listen to the episode on Soundcloud:

Sidewalk Conversations: Celebrating everyday heroes, their stories, challenges and learnings
Sidewalk conversations: the conversations that happen on warm summer evenings on the side of the road, in small cafés or in front of your neighbour's door while chatting after a busy day. The Sidewalk Conversations podcast celebrates those informal moments and gives a platform to everyday heroes, their stories, challenges and learnings.
Sidewalk Conversations was created by me, Kathleen Fritzsche, because those are the stories I am interested in and would like to listen to. I record my conversations with people that I think have stories worth telling and putting out into the world.
Follow Sidewalk Conversations on Social Media:
Facebook
Twitter
Instagram