The Sidewalk Conversations episodes are the stories of inspiring everyday heroes. Stories I'd like to see published and to listen to because they're worth telling. I hope you enjoy them, too.
Episode 3: Martin Kluck in Stuttgart, Germany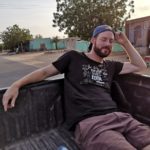 In this episode, I talk to my friend Martin Kluck in Stuttgart. He takes me on the 10 years' journey of his fair fashion company Kipepeo-Clothing and some of his adventures, like climbing Mount Kilimanjaro or hitch-hiking from Stuttgart to Nairobi, Kenya, via the Balkans, Egypt, Sudan and Ethiopia. We also talk about the importance of kindness and that helping and supporting each other makes us human.
Follow Martin and his Kipepeo-Clothing team on Facebook or Instagram.
Listen to the episode on Soundcloud:
Sidewalk Conversations: Celebrating everyday heroes, their stories, challenges and learnings
Sidewalk conversations: the conversations that happen on warm summer evenings on the side of the road, in small cafés or in front of your neighbour's door while chatting after a busy day. The Sidewalk Conversations podcast celebrates those informal moments and gives a platform to everyday heroes, their stories, challenges and learnings.
Sidewalk Conversations was created by me, Kathleen Fritzsche, because those are the stories I am interested in and would like to listen to. I record my conversations with people that I think have stories worth telling and putting out into the world.
Follow Sidewalk Conversations on Social Media:
Facebook
Twitter
Instagram
_____
Picture copyright: Martin Kluck, Kipepeo-Clothing