Everyone has important and interesting stories to tell in my opinion. Nevertheless, most people don't think that their stories matter enough to tell them to a wider audience. Well-known people and role models in the tech, lifestyle and travel communities usually take up the bigger part of our attention.
Giving everyday heroes the platform to tell their stories is something very dear to my heart. It all started a couple of years ago while facilitating aka moderating Startup Weekends. I realized that it makes me much happier to support others to develop their full potential and give them space on a stage than standing on a stage myself.
The Sidewalk Conversations episodes are essentially the stories I'd like to see published and to listen to because they're worth telling. I hope you enjoy them, too.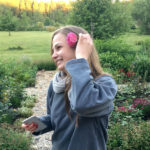 Episode 02: Liga Megne in Berlin, Germany
In this episode, I sit down with my friend Liga Megne in Berlin. We talk about how she grew up moving back and forth between Latvia and Germany, the importance of heritage and why she started building robots.
Follow Liga on her blog or on Twitter.
Listen to the episode on Soundcloud:
Sidewalk Conversations: Celebrating everyday heroes, their stories, challenges and learnings
Sidewalk conversations: the conversations that happen on warm summer evenings on the side of the road, in small cafés or in front of your neighbour's door while chatting after a busy day. The Sidewalk Conversations podcast celebrates those informal moments and gives a platform to everyday heroes, their stories, challenges and learnings.
Sidewalk Conversations was created by me, Kathleen Fritzsche, because those are the stories I am interested in and would like to listen to. I record my conversations with people that I think have stories worth telling and putting out into the world.
_____
Picture copyright: Kathleen Fritzsche (header) and Liga Megne